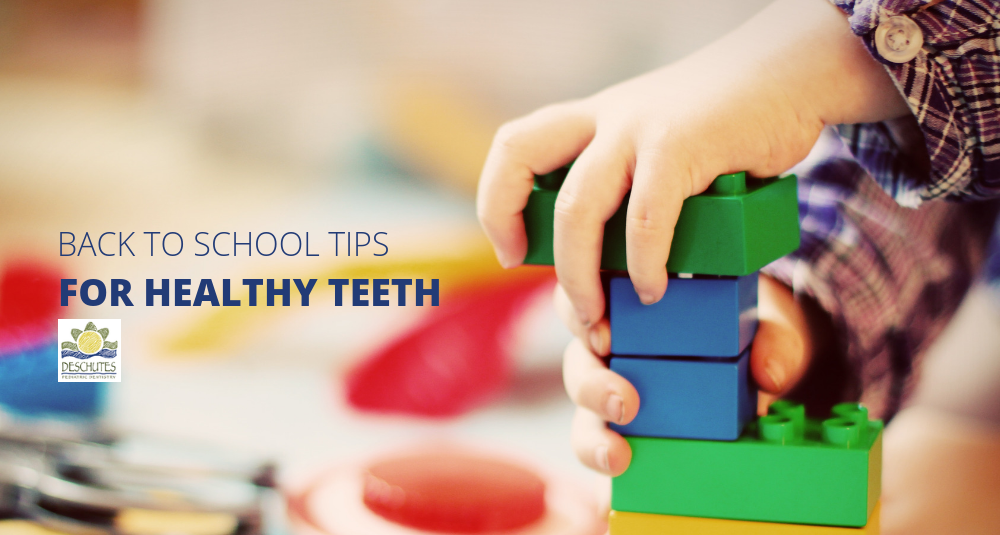 Back to School Tips for Healthy Teeth
As summer winds down, it's time to get back into the school routine. Start this school year off right by creating healthy habits from the get-go. Here are some dental tips on how to make this school year the best (and healthiest) yet!
Create a morning routine
Kids need to be brushing and flossing for 2 minutes a day, twice a day. As lazy summer mornings turn into a rush to get to the bus stop on time, teeth-brushing can sometimes fall by the wayside. It's important to establish a routine to prevent cavities and keep your child's teeth healthy all day long. Plus, studies have shown that children who eat a nutritious breakfast do better in school because they have better concentration and more energy. Taking extra time in the morning for your child's health can greatly benefit them in the long run.
Keep a healthy diet
Look at the calendar of cafeteria lunches and teach your child how to pick out what's good for them, as school meals may contain processed and sugary foods. Parents who pack their child's lunch should focus on sending perishable items, such as fruits and vegetables, that will provide children with healthy alternatives.
→ Consider shelf life. Packaged foods that can sit on the shelf for a long period of time, such as crackers and pretzels, contain starch. Starch coats the teeth and can breed cavity-causing bacteria.
→ Choose water. Juice and soda often contain more sugar than children should have in an entire day. This sugar can coat the teeth, promoting tooth decay. Sugar can also lead to an afternoon crash, which interferes with schoolwork. This also applies to sugary sports drinks when playing sports.
Protection during school sports
Kids participating in organized sports should consider mouth protection. This is particularly true if they play football, soccer, baseball and basketball. Children should also always wear a helmet when riding bicycles or scooters.
Schedule dental check ups
According to the CDC, tooth decay is one of the most common chronic conditions among children and results in a staggering number of missed school days. Good oral hygiene is an important part of a child's overall health. All kids should go to the dentist twice a year for routine cleanings.
Dental pain or disease can lead to difficulty in eating, speaking, playing and learning as well as millions of hours of missed school. Establishing a routine, eating healthy foods, using mouth protection during school sports, and attending regular dental checkups are all easy and necessary ways to keep your child's teeth healthy during the next school year–and for life! Schedule an appointment with us today!