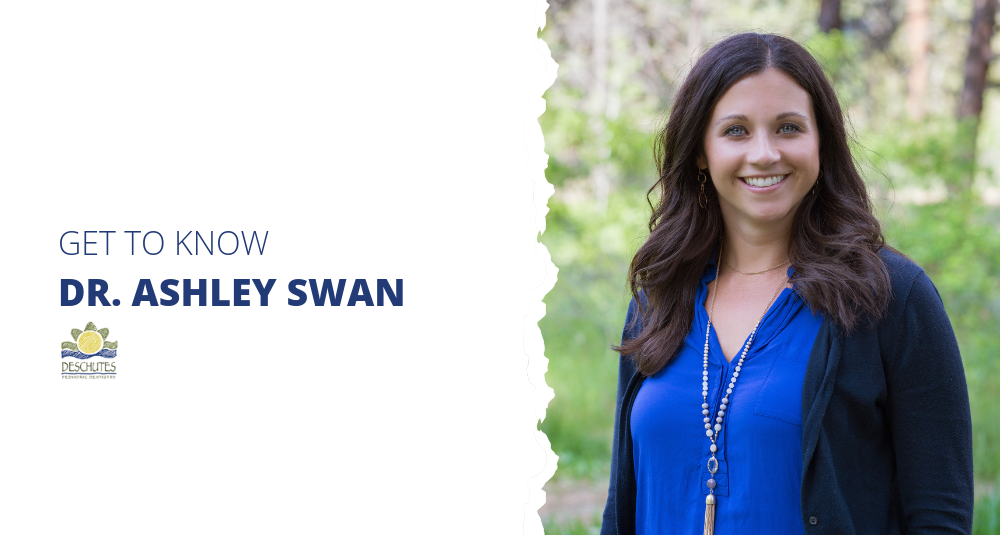 Get to know Dr. Swan!
A big welcome to our newest addition to Deschutes Pediatric Dentistry, Dr. Ashley Swan! Get to know her with a few quick questions.
Where are you from?
After graduating from dental school at Tufts University in Boston, I practiced in Reno for 7 years before doing a residency program in Oahu to specialize in pediatrics.

How did you get into dentistry?
My mom is a nurse and I was always familiar with health care and the industry, so that's where I got my love for health and wanting to take care of people. I had a really great dentist when I was younger. I liked the way he treated me when doing a simple cleaning and fillings and decided back in high school that this was what I wanted to do. As for pediatrics, after working in 2 different pediatric practices, I realized how much I loved it and wanted to stay in that field. Interacting with the kids is great and so much fun.
What made you decide to move to Bend?
My husband lived here 16 years ago. He went to U of O and lived in Portland, so he loves Oregon and as I got to know him, I got to know Oregon as well. He always wanted to come back here, and I'd been up here once before and fell in love with it. We moved in 2 weeks ago and are loving it!

Why are you excited to work at DPD?
I think they've got a great office, and I've heard great things about the practice. I've really enjoyed watching Dr. Steve with the parents and the patients. I think they've got a really good team here–just a really good environment. I like his philosophy and the way he treats the kids.

What do you like to do in your free time?
I like to do yoga and anything outdoors–hiking, biking, running. We're excited to get back into skiing since we've been in Hawaii the last couple of years. I have 2 kids, a 7-year-old boy and girl who's 4-and-a-half, so it's fun to get them into doing all the outdoor activities.
What is your favorite thing to do in Central Oregon?
We just moved here 2 weeks ago, but I've loved going on hikes around the river recently and just exploring the area. We went to Elk Lake one day and loved seeing all the lakes up there.
I'm happy to be here and look forward to meeting all the wonderful patients!
Thanks Dr. Swan! We're excited to have you!