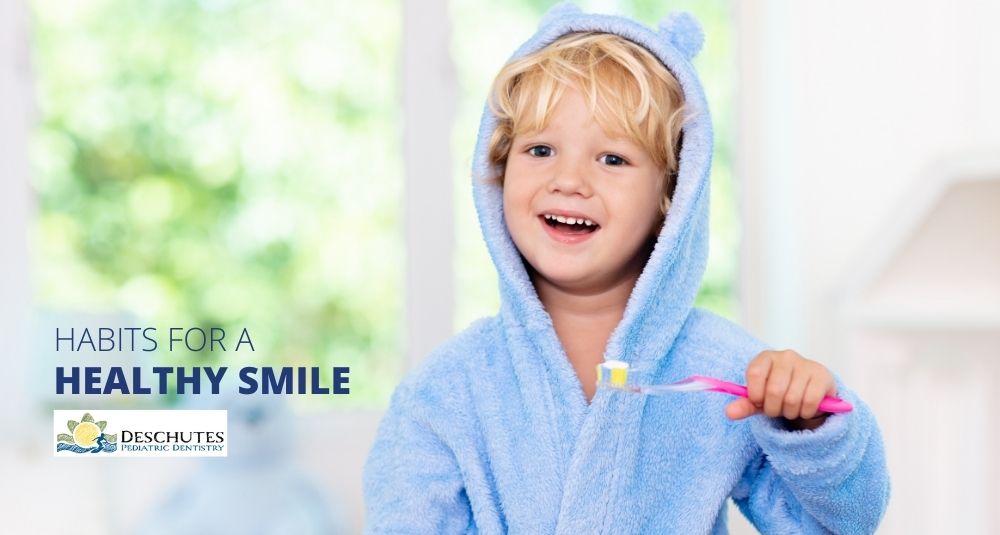 Habits for a Healthy Smile
It's the new year which means there's no better time to start fresh and implement or finetune healthy habits for you and your little one's oral hygiene. Establishing an oral hygiene routine sends a message to your child about the significance of caring for their teeth and can be implemented as soon as they get their very first tooth. Here are three habits about oral hygiene routines that you can work towards in order to ensure that your child has a happy healthy smile!
1. Implement or Adjust Your Routine
Implementing a routine doesn't have to take a lot of time and effort. After all, you brush your teeth every day so sharing in the practice with your kiddo should be a piece of cake! Create this routine early on to help your child get a sense of normalcy when it comes to brushing and flossing daily. If you already have a routine in place look at it introspectively and see how it can be fine tuned. Do you need to add a timer or brush after your independent child?
2. Ditch Boring Habits
Doing the same routine over and over again can quickly become monotonous. That's why it's fun to change it up and add something new every now and again. New additions don't have to come and stay forever, they can be fleeting and change frequently. For example, you can add your child's favorite song to brush to, make it a fun game and see who can brush better, add a funny dance and get them laughing, and various other things. Brushing doesn't have to be boring.
3. See Your Pediatric Dentist & Be Reactive
If you recognize that your child has been a little (or maybe not so little) obstinate about brushing their teeth it's time to change it up and stop the power struggle. Instead of trying to force a routine that isn't working, try a new tactic. Try explaining, or if your child is old enough showing them what happens to teeth when they are neglected. If this tactic doesn't work it may be time to consult with your local pediatric dentist.
These three habits will help your child's smile be in tip-top shape. Routines and schedules tend to work really well with children and adding some levity can make it a fun experience for all. One of the most critical assets to your kiddos smile though, is their pediatric dentist. Don't forget to schedule those biannual visits with your pediatric dentist at Deschutes Pediatric Dentistry in Bend Eastside and Westside or Redmond.