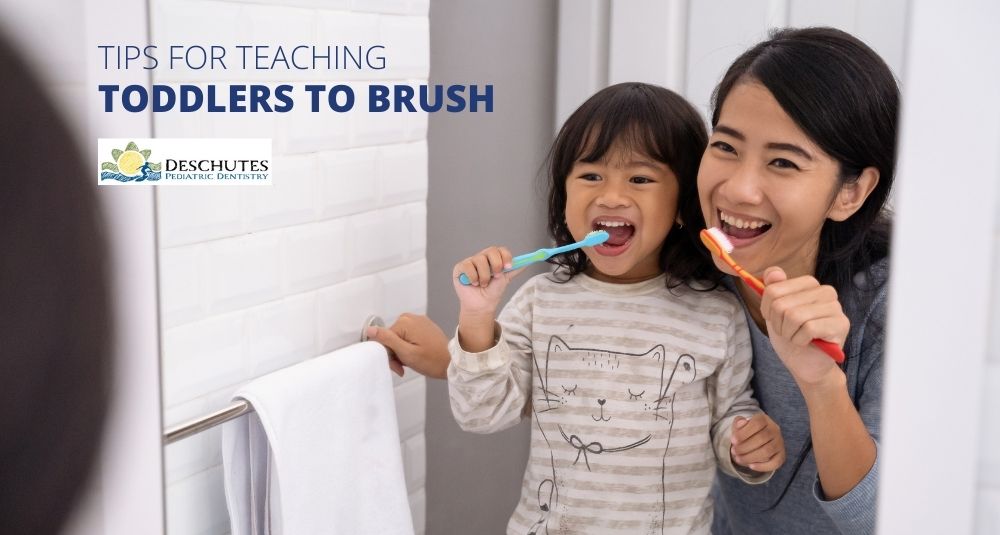 Tips for Teaching Toddlers to Brush
Believe it or not, teaching your toddler new tips for brushing their teeth doesn't have to involve a tantrum! You just have to get a bit creative with helping them build new habits they can carry with them for years to come. You can always consult your local pediatric dentist for tips and tricks to help make brushing fun and efficient.
But how can you get your toddler to brush their teeth consistently? By starting early, of course! With a bit of patience and guidance, you'll be able to help your toddler develop plenty of proper oral hygiene habits from an early age.
Here, we're sharing several tips and tricks for teaching your toddler how to brush their teeth and introducing a healthy brush routine day and night. 
Guidelines for Brushing
Before diving into brush tips for your toddler, let's cover some of the universal guidelines for brushing your teeth. 
Children (and adults) must brush their teeth for two minutes twice per day.
Toddlers should use fluoride toothpaste for tooth brushing. Parents, start your toddler with a small drop of toothpaste. Fluoride can prevent bacteria and encourage a healthy dental routine for your toddler. Introduce your toddler to a fluoride mouthwash as they grow and prepare for their adult teeth to arrive.
Initially, your toddler should be using a smaller, soft-bristled toothbrush.
Supervise your child's brushing routine for a while to ensure they are properly brushing their teeth.
Tricks for Emphasizing Oral Hygiene
Maintaining healthy oral hygiene is crucial, but teaching your toddler how to preserve their oral hygiene may seem like an intimidating process at first. 
Fortunately, there are plenty of tricks you can use to assist your child in establishing proper oral hygiene! 
Practice Flossing
Flossing is one of the best methods for maintaining oral hygiene. Just like adults, children need to floss their teeth, especially once they have more than one tooth! Using pre-threaded flossers, you can practice flossing with your toddler by first showing them how you floss your teeth.
Set a Consistent Routine
Adults and children should be brushing their teeth every day, twice a day! Even if you're still discovering the best way to get your toddler to brush their teeth, you should never let your child skip their brushing routine. Be sure to set a consistent tooth brushing routine with your toddler, especially when they're initially learning.
Whether you want to brush your teeth alongside your child in the bathroom day and night or teach them reasons why brushing is so important, set some examples for your child in maintaining healthy dental habits for years to come! Have more questions about brush routine or need to schedule an appointment with us? Head to the Deschutes Pediatric Dentist office located in Bend or Redmond!