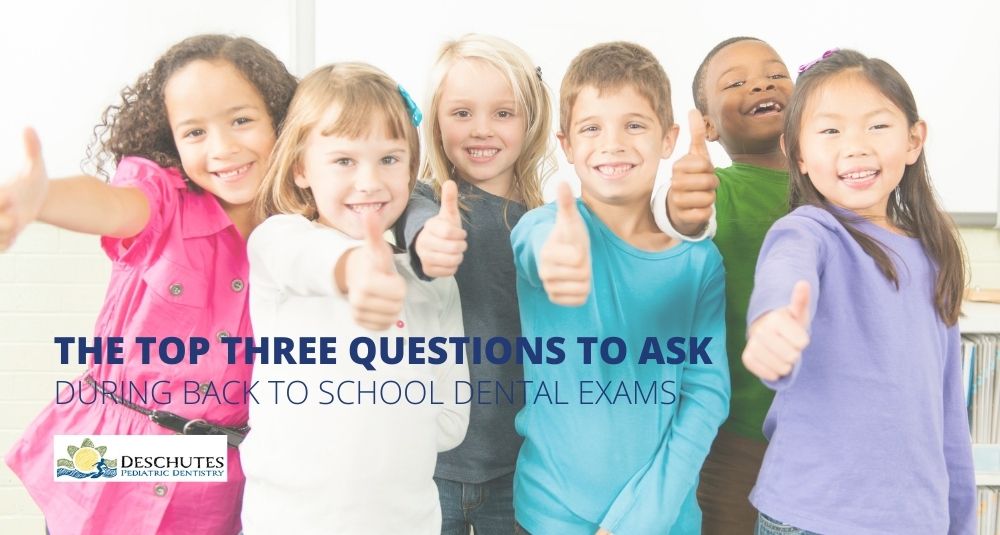 The Top Three Questions to Ask During Back to School Dental Exams
School is back in full swing which is exciting, maybe a tad overwhelming, and also means a slew of appointments have to be made to make sure your kiddo is in tip top shape. Though it may not be on the school supply checklist a back to school dental appointment is essential for your child and their oral health. This is the perfect time to reestablish any routines that may have gone dormant during summer, spot any onset issues, make sure their oral health is pristine, and ask important questions to be in the know. 
1. How is My Child's Dental Health?
It's common to think of the overall picture when looking at your child's teeth. You want to make sure that their oral health is on the up and up. We don't blame you! Deschutes Pediatric Dentistry also like to look at the bigger picture and make gradual assessments throughout the exam. This ensures that all the components for your child's smile comes together to create perfection. 
2. Does My Child Need Sealants?
If your child is genetically predisposed to cavities, or if your child is exposed to a dental routine that enables cavities and let's them flourish, sealants may be the route for them. Sealants are a great way to inhibit and combat cavities but it's certainly not the end all be all answer. It's imperative to continue to brush, floss, and keep up with good oral hygiene routines on your own to help with cavity prevention.
3. How Does our Dental Care Compare? 
Are you worried that you aren't spending enough time focusing on a great dental hygiene routine? It's never too late to start! Be sure to implement a healthy routine that has the perfect combination of fun and education about their teeth and smile. A few things to try are playing music during brushing, showing them photos of good vs bad smiles, and having fun with it! If you need more tips on dental hygiene routines for your family don't hesitate to ask us, we are happy to help!
Start this school season off with all your "to-dos" checked off your list, including those back to school dental visits. Come see us at Deschutes Pediatric Dentistry in East Bend, West Bend, and Redmond to perfect your little ones smile. We welcome you, your questions, and your adorable littles with open arms!